Rebozo Emma Black is very soft and exquisite. It is very solid and fresh at the same time. It can be used all year round. This rebozo is ideal for the following uses:
1.As a baby sling, ring sling or baby wrap(The difference is based on the length that you choose).
You can use this rebozo from new born and up to 25 kgs.Normally a baby sling or a ring sling is between 2 – 2,70 metersand a baby wrap is between 2,85 – 4,70 meters, the size that you choose is based on your T-Shirt size (T-SH). Find your size Rebozo Emma is very comfortable, very solid and can be use all year round. This baby wrap/ ring sling is always a good choice - no matter the age, weight or developmental stage of your baby.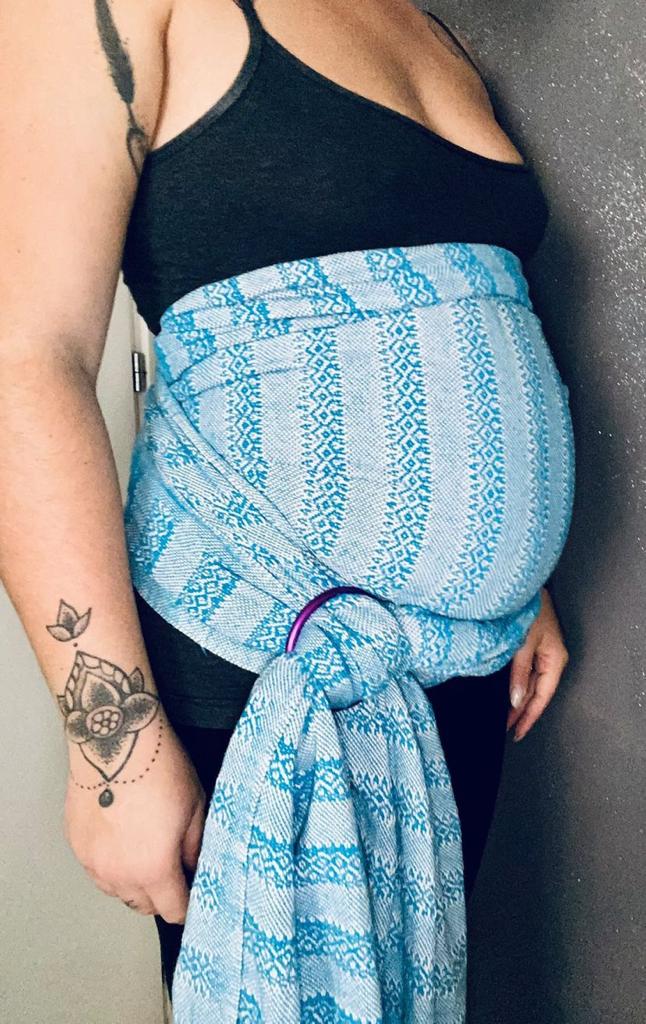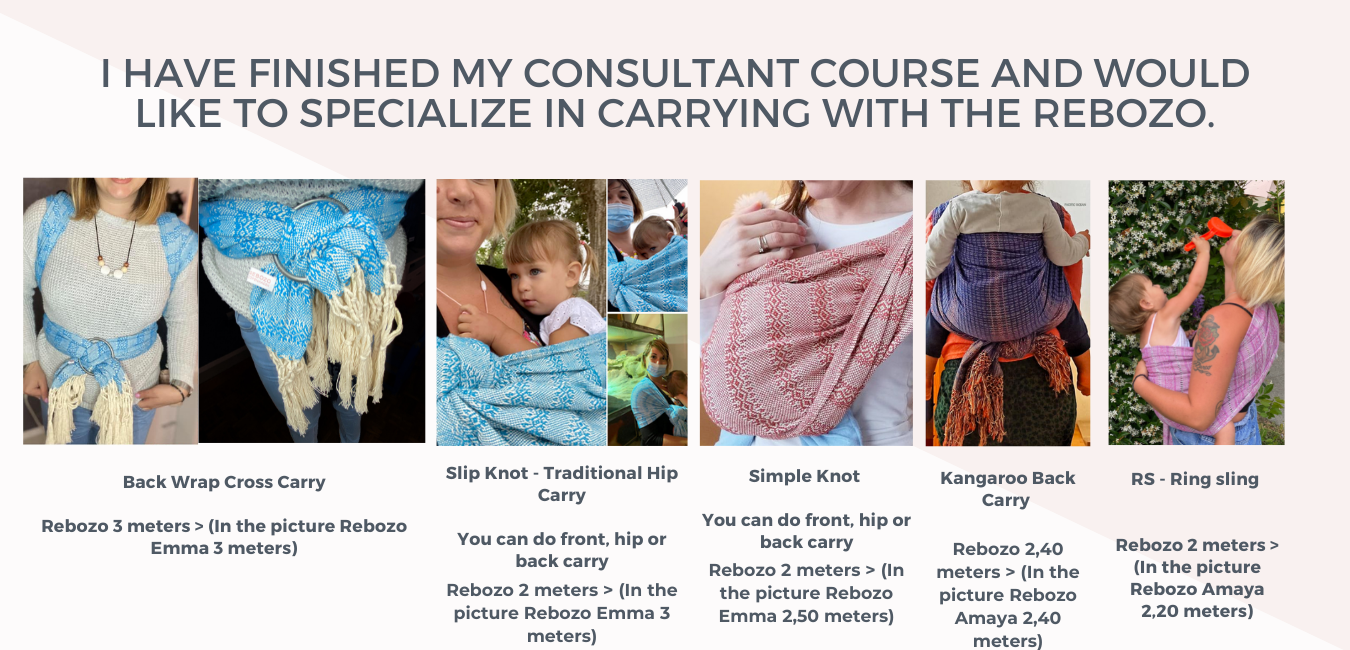 If you read the product properties below, you can find the ties and knots that you can do with the rebozo as a sling, ring sling or as a baby wrap. The sizes of the rebozo are based on the international wrap measurements, next to the wrap size you will also find the length that you have a reference for using it for rebozo massage. "Emma is very supportive and therefore fantastic to use even with older children and on the back. Emma is very soft and truly wonderful…. The colors are one more beautiful than the other. I will like to try them all! " - Veronica @polveredinanna, Babywearing consultant
2. All kind of rebozo massage during pregnancy and birth.
The rebozo has the right size – so you get the best effect
Rebozo Emma has the exact dimensions both in length (between 2.20 and 3 meters) which suits the different functions (rebozo massage and baby carrier), and the width 70 cm which is perfect for a good grip with your hands and for the pregnant woman's belly or pelvis where it is not too much fabric around it. The exact measurements are important so that your partner / doula / midwife can give you the massage in the right position. See your size here:
Find your size
The rebozo is designed for the purpose
The rebozo is thin but strong and is developed for the purpose. All Emma's rebozos are hand-woven, made of cotton which gives a good grip to the woman's body, for the rebozo massage techniques. With a towel or a bed sheet you may not achieve the same effect as it is impractical when you have too much fabric between your hands and around the pregnant's body to do the techniques. It can also slips off the body so the person doing the massage puts a lot of effort to do it right.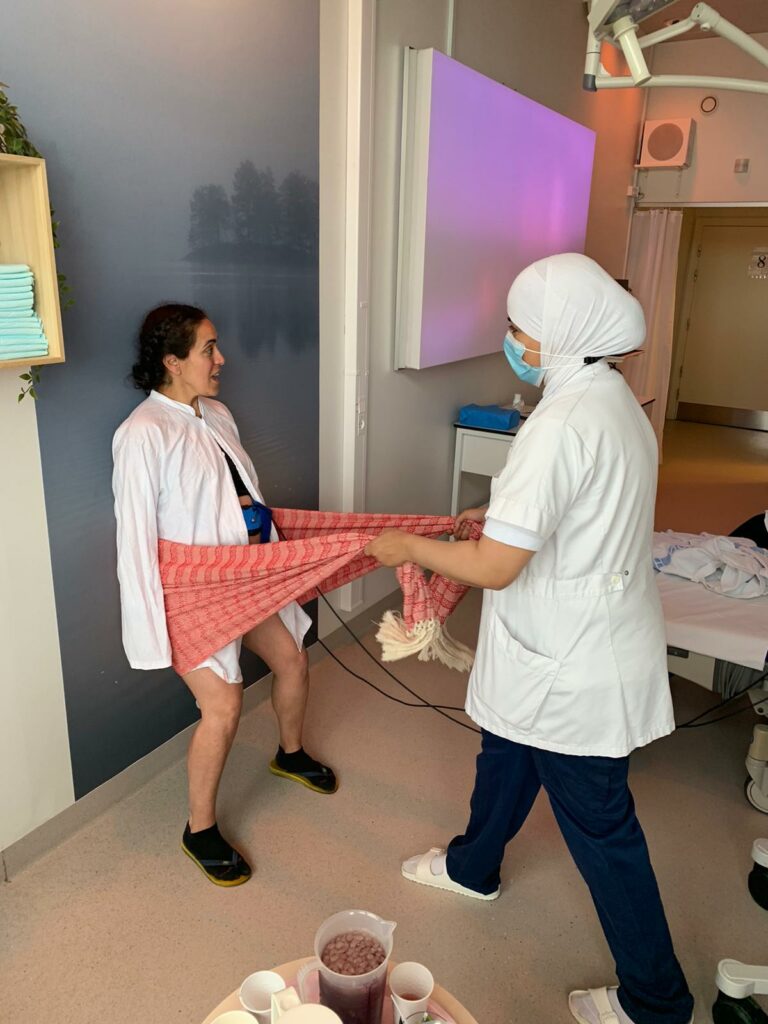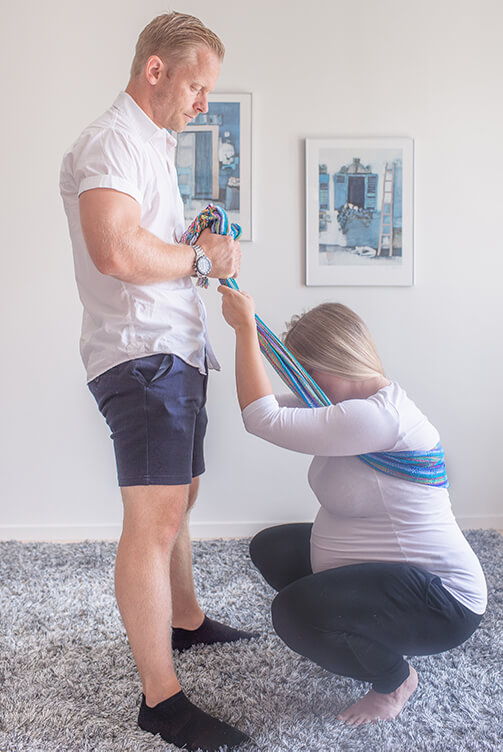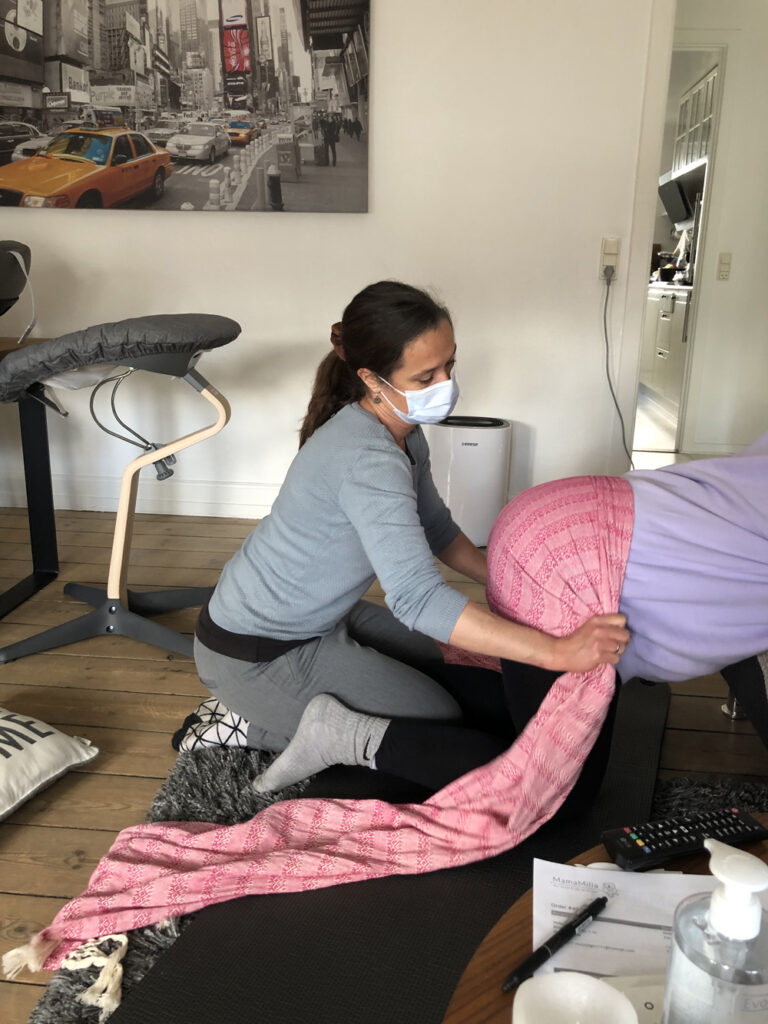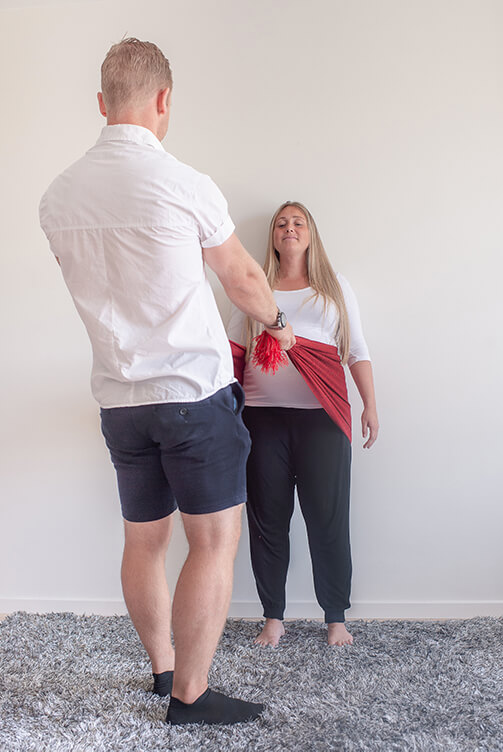 "I am a midwife and have worked with rebozo for many years and thus tested many different qualities and materials. It is so important that the fabric and weave feels right - to be able to work properly with the rebozo massage. The Emma rebozo from Rebozo Copenhagen fits me perfectly. Super nice material - and really comfortable to use. I'm so happy with it." – Susanne @jorde_moderen
3.It is so comfortable as a scarf during winter or a shawl during summer, I recommend the sizes from 2 to 3 meters. It is warm during winter and so elegant.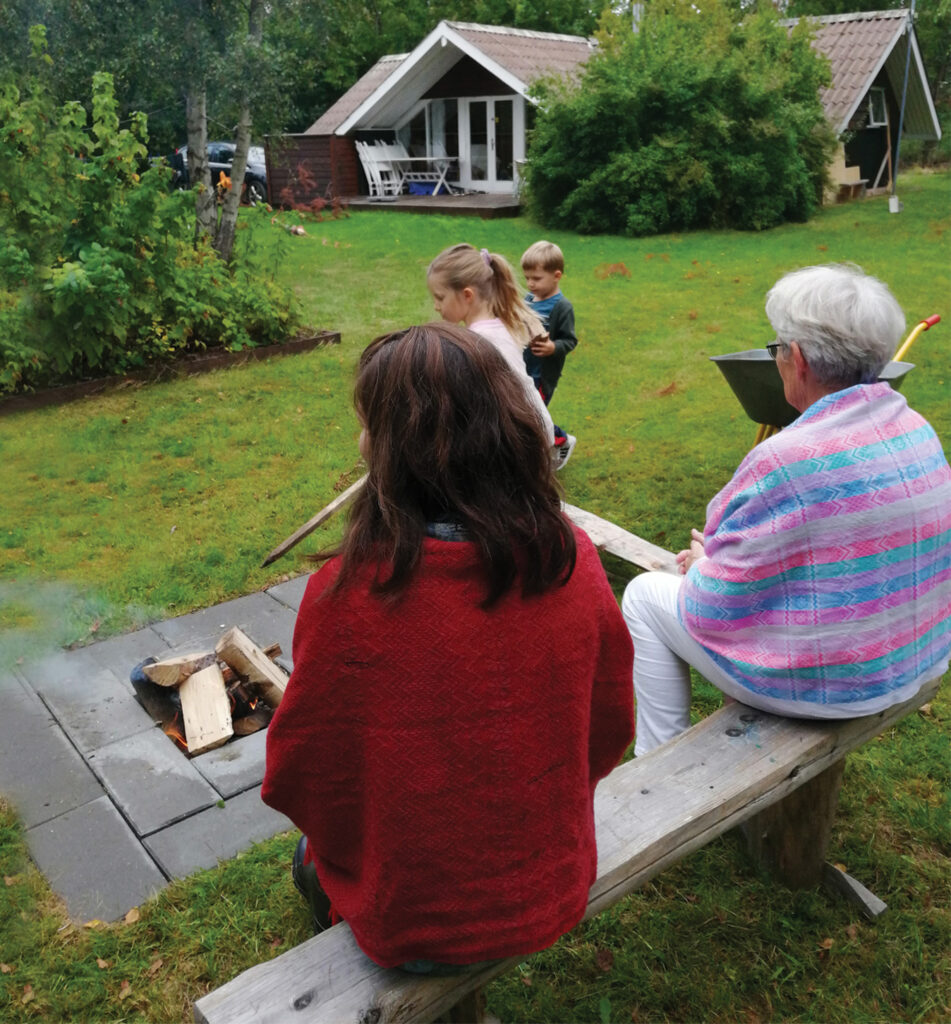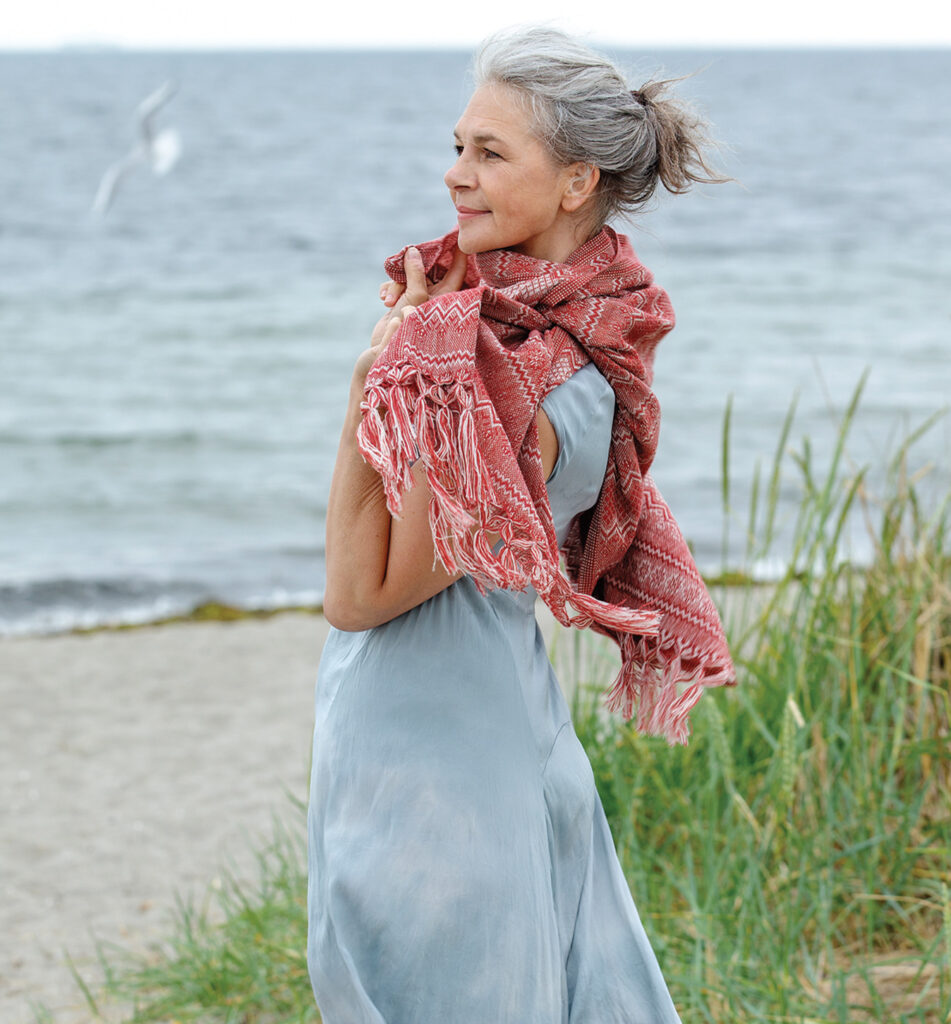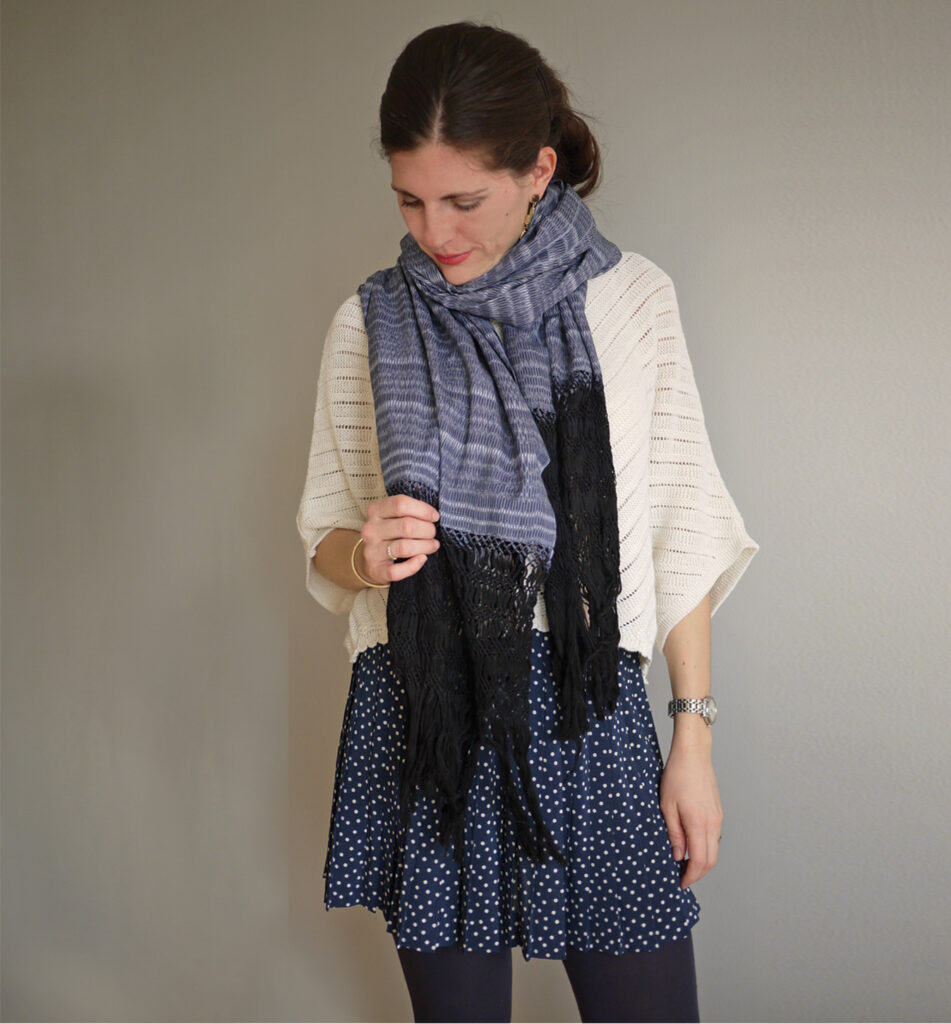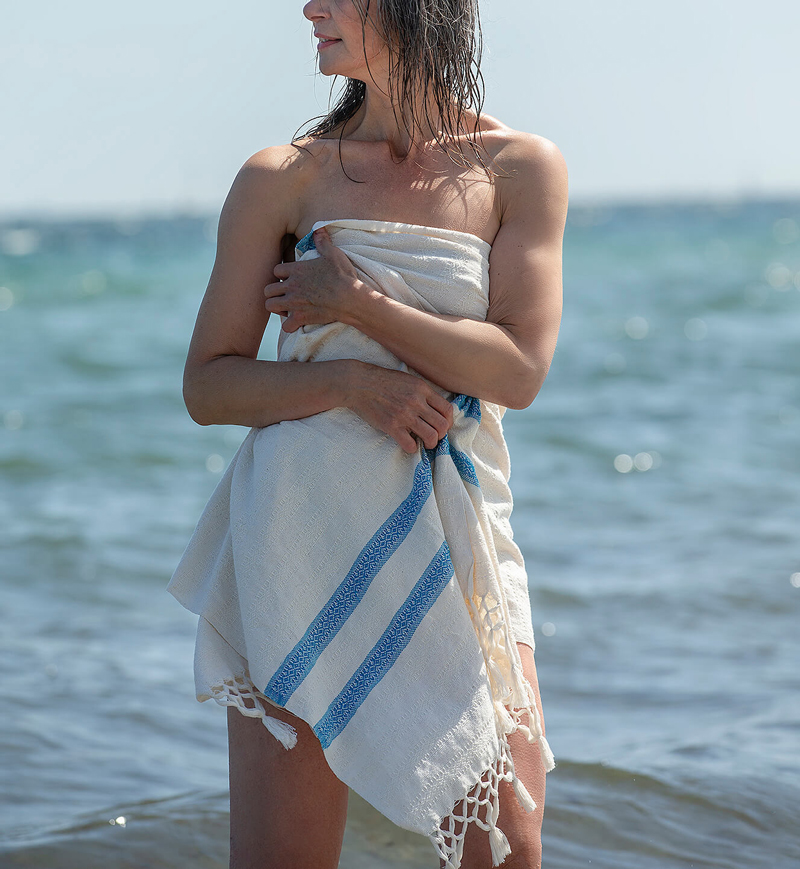 "You should not think of a rebozo as a massage and baby carrier, but also as a scarf you can use when the children have grown up. I like that the rebozo has such beautiful color and patterns. I am so happy with my rebozo, it has a good quality, is soft and nice." – Durita, mom
"Having met the Rebozo Copenhagen I fell madly in love with it, such a compact and delicate texture, full of love and history. I find the ergonomic and perfect rebozo right from pregnancy, to carry our baby and in the everyday life of our days, as a shawl, scarf or bedspread. It's multiple uses make it unique and indispensable." – Barbara @baby.d.m, Babywearing Consultant
4.As a blanket for your baby specially during summer or within in winter.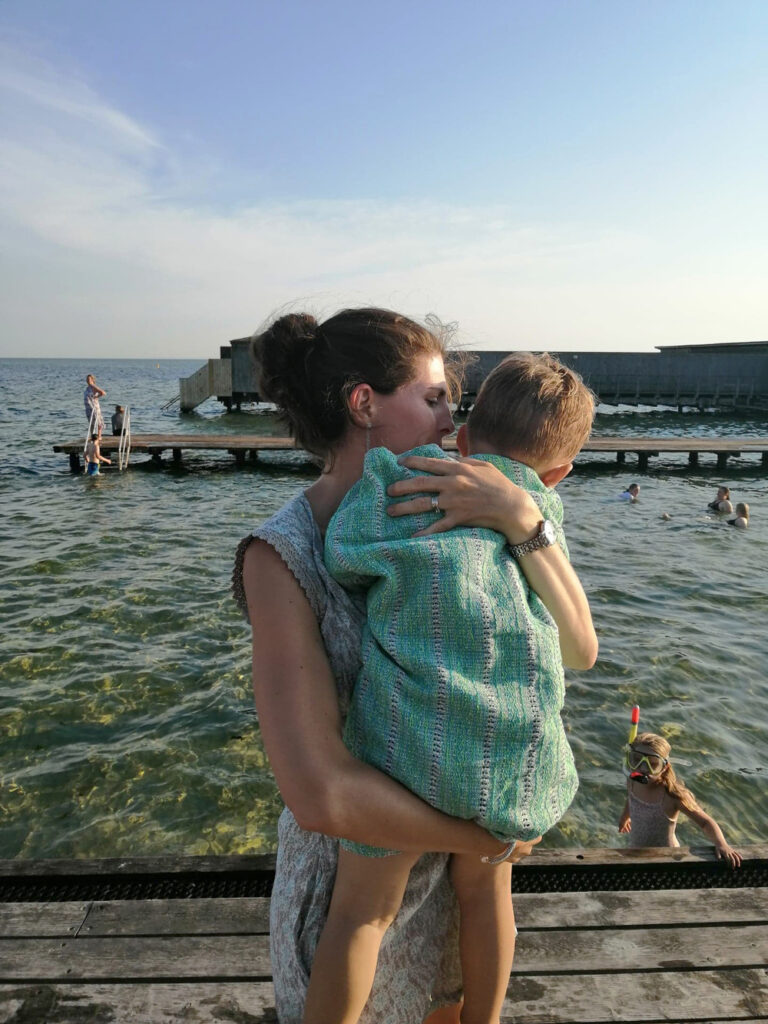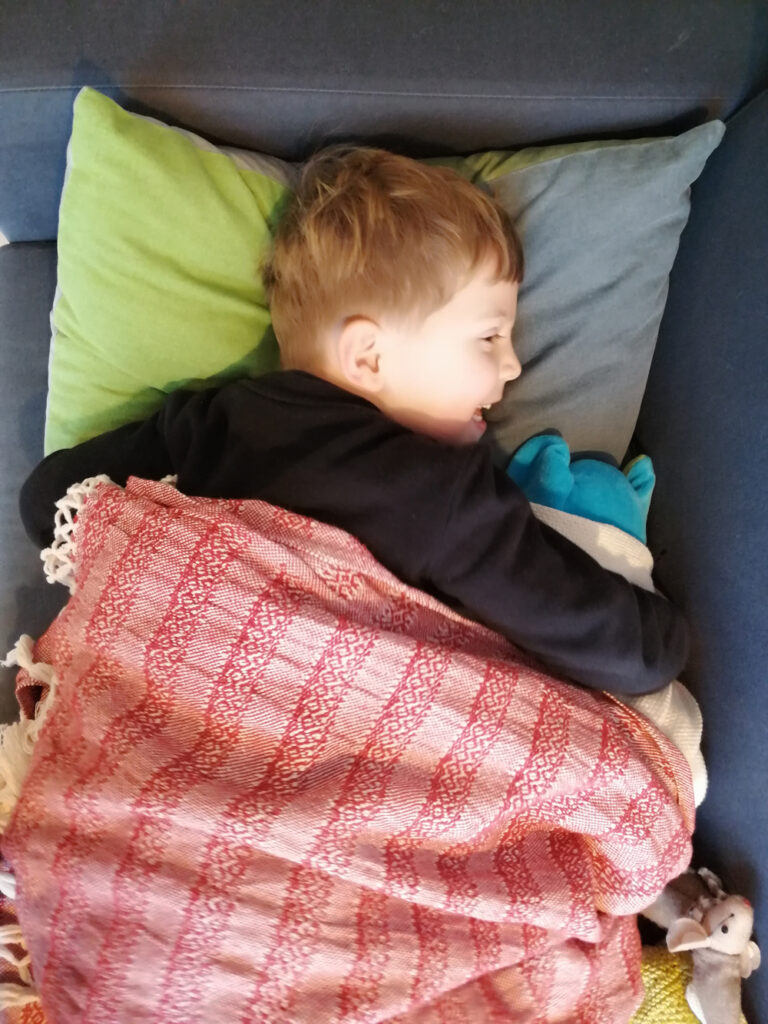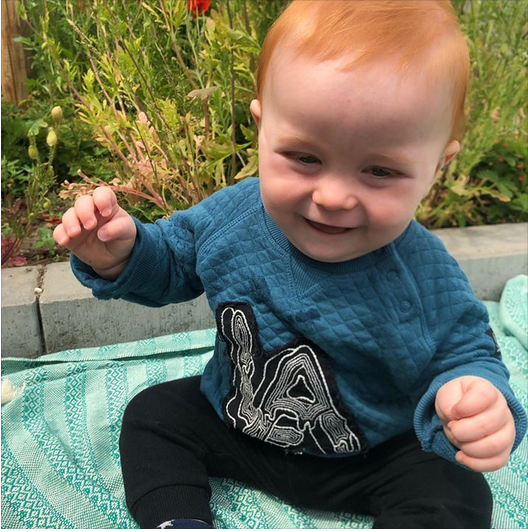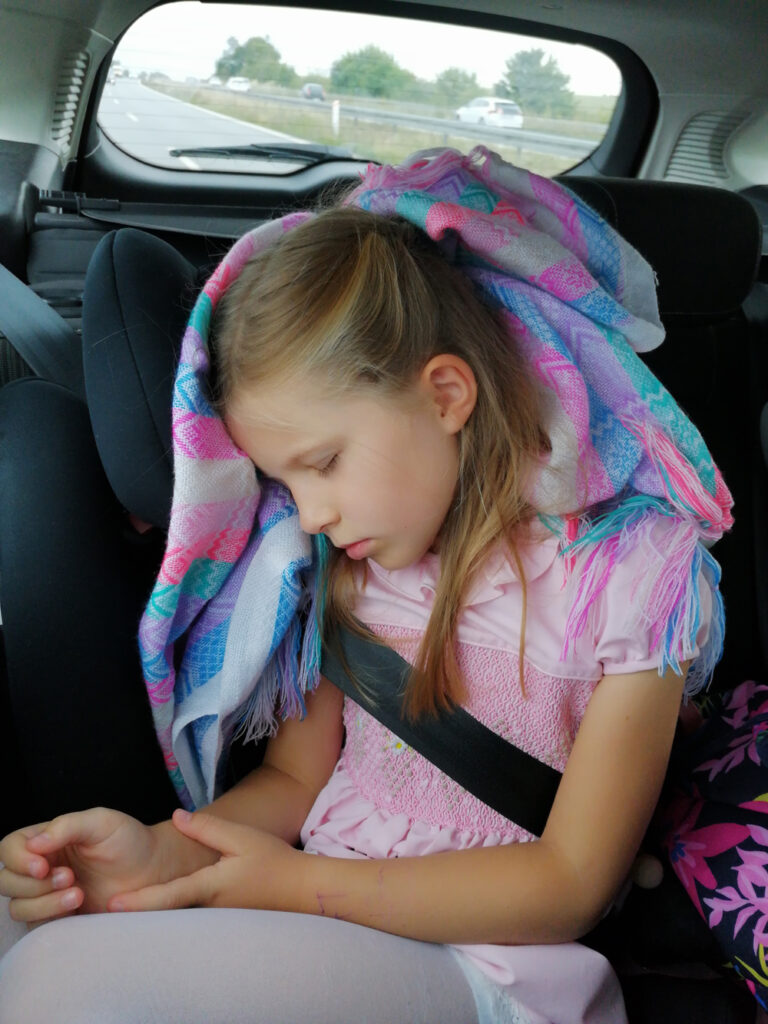 "Wilfred usually finds peace in the sleeping bag but these days are too hot, so the loosely woven rebozo Emma is really good at giving him the feeling of being enveloped without sweating☀️ He can easily take his arms free and his legs have been loosened after the picture was taken, so he has freedom of movement while he sleeps❤️"⠀ ⠀- Christina fra @defiretrimestre, Babywearing Consultant
The Artisans
We work directly with five unique artisans from different local communities in Mexico. In choosing Rebozo Copenhagen, you are supporting these artisans keep their craftwork alive within their communities. Behind every rebozo, there is a person, a pair of hands and a story to be told. Our Rebozos are weaved by a traditional pedal weaving loom. With this technique, it takes one to three days for each Rebozo to be made. Each community makes their own pattern in different colors. Rebozo Emma is made in Central Mexico, by the artisan Javier, where he has learned the technique from his grandmother. when he was young he went to Mexico City to try something different but he came back to his roots so he can do something that gives meaning to him. He weaves rebozos with his families. Material: 100% cotton
Product properties
Rebozo is an extension of your arms, where it hugs you when you are pregnant and your baby through the rebozo massage, afterwards your baby when you carry him/her in the wonderful nest of a baby sling or a baby wrap and continues the rest of your life warming you when it covers your shoulders as a shawl. Weights only slightly and doesn't occupied so much space, it can be in your handbag and be used as a sling, scarf, shawl or blanket. A rebozo is handwoven by artisans in Mexico, it is made in a pedal loom, they are very solid. Rebozo distributes the weight of your baby, it is easy to use Baby can be breastfed or get a bottle in it, is very solid. From new born to 4 years old, safe and ergonomic. It is short so it can be used all your life as a scarf or shawl.
As a Ring sling / Baby sling:
- You can do these different knots: Slip knot, Simple knot, Ring sling. and carry you baby in these positions: in the front, in the hip or back carry. Easy to wear closure with rings or flat knot. The size for you is based on your clothes size (T-SH):
XS, S 2 mts - 2,20 mts
M, L 2,20 mts - 2,50 mts
XL 2,50 mts - 2,70 mts
XXL 2,70 mts
As a baby wrap:
You can do these different knots: Double Hammock Carry (DH) (From Size 3 – 3 Mt ), Front Cross Carry (From Size 3 – 3 Mt ), Short Ruckless Bikini (RBC) (From 2,85 meters ), Front Wrap Cross Carry (FWCC) (From size 4 - 3,70 meters), Kangaroo Carry (From size 3 – 3 MT), Poppins Carry (From size 3 – 3 MT), Rucksack Carry (From Size 3 – 3 MT), Front cross carry (From size 5 – 4,20 meters), Pocket wrap cross carry (From size 4 – 3,70 meters), Hip wrap cross carry (From size 4 – 3,70 meters).
Benefits of babywearing:
– Safety - The same
rebozo
can carry a baby from newborn and on through the toddler age (0 - 4 years) – is very safe and will maintain its strength and durability. – Makes it easier for your baby to sleep – the baby can easily be laid down directly from the rebozo. – Transparent- gives peace in relation to the surroundings- the baby does not feel overwhelmed. – Healthier for your body – distributes the baby's weight and protects your back and arms from pain. – Babyer sover bedre, når de er i kontakt med mor/far- babyer kan høre hjerteslag, åndedræt og føler sig tryg, sikker og rolig , fordi det minder dem om deres mors livmoder- også kendt som '4. trimester'. - Lifelong product: massage during pregnancy, baby carrier, scarf for the rest of your life.
As a scarf or shawl:
Your beautiful rebozo follows you almost your entire life. You can start using it as rebozo massage during pregnancy and birth, as baby carrier, as scarf or shawl for the rest of your life. And then inherit it to your children, that's something that we do in Mexico. Where I have a lot of rebozos that carry many good memories from my grandmother. - You can use the rebozos that are between 2 to 3 meters. Even though the rebozo of 3 meters sounds long, it is great for winter as a scarf. I use it also a lot as a shawl. You can have some inspiration in the
gallery
section.
Rebozo massage during pregnancy and childbirth.
Rebozo Massages are a natural and safe pain relief method recommended by midwives and doulas. You can do it in the comfort of your home with the help of your partner.
Rebozo massage
techniques can also help to bring your baby into the right position for birth.
"Our experience with rebozo has been great – and I say "our" because rebozo was an amazing tool not only to alleviate my pregnancy symptoms, such as lower back pain, but also to get my partner actively involved in the whole process. The rebozo technique is easy to learn, so after a workshop with Rebozo Copenhagen, my husband could perform the movements, which helped so much with the back pain, as well as with the positioning of the baby." – Camilla. See more Stories
Ideal Size for you
Ideal Size for you (pregnant women, doulas and midwives) I would recommend you that if you are not a doula or midwife, then it is better to focus on size as a sling, ring sling or baby wrap. This is because you will only use it for a short time for rebozo massages. Please check our recommendations in
Find your size
Care instructions
– Wash on gentle program 30 degrees. – Tie the ends together with a hair elastic and put the rebozo in a washing bag. – Hang to dry, do not use dryer.